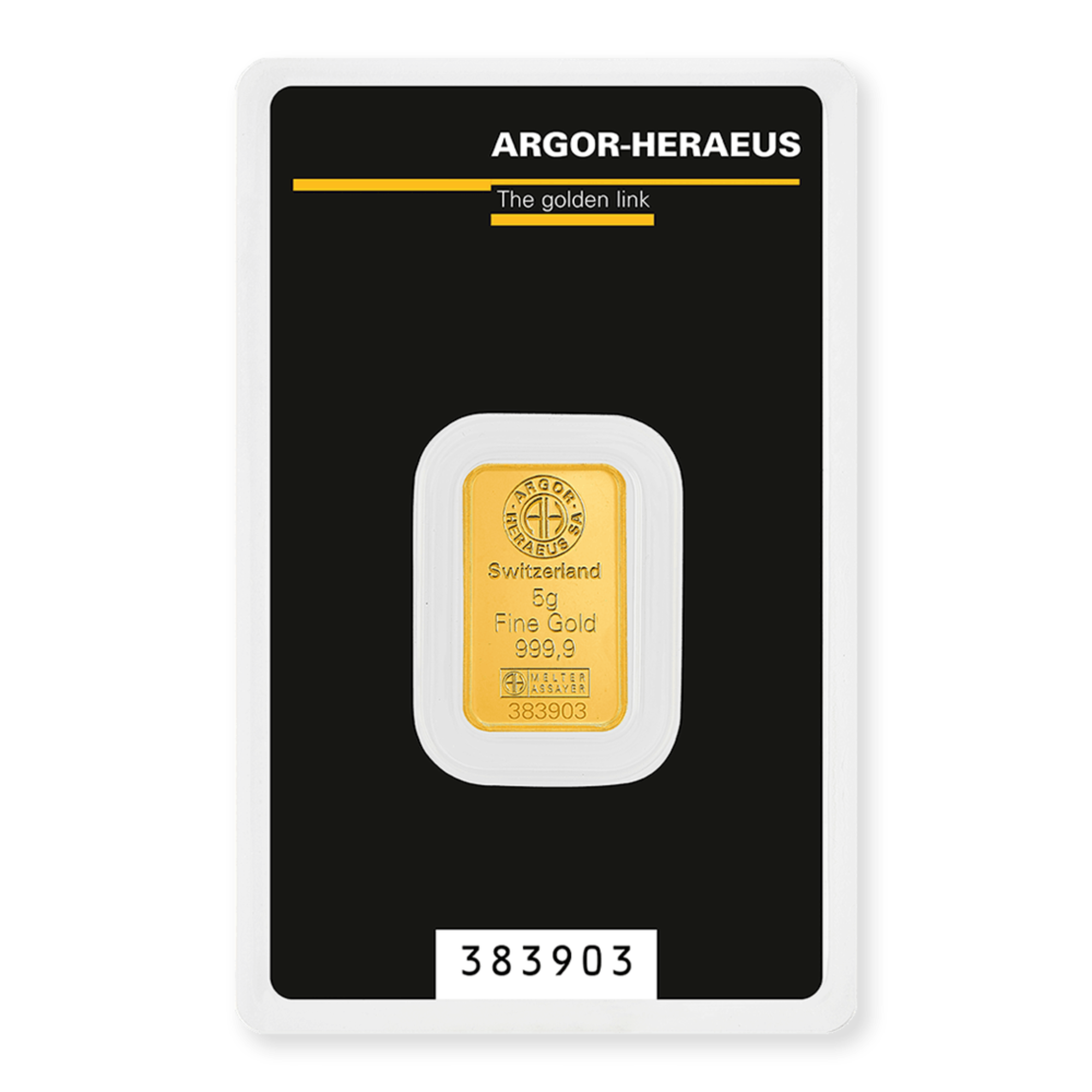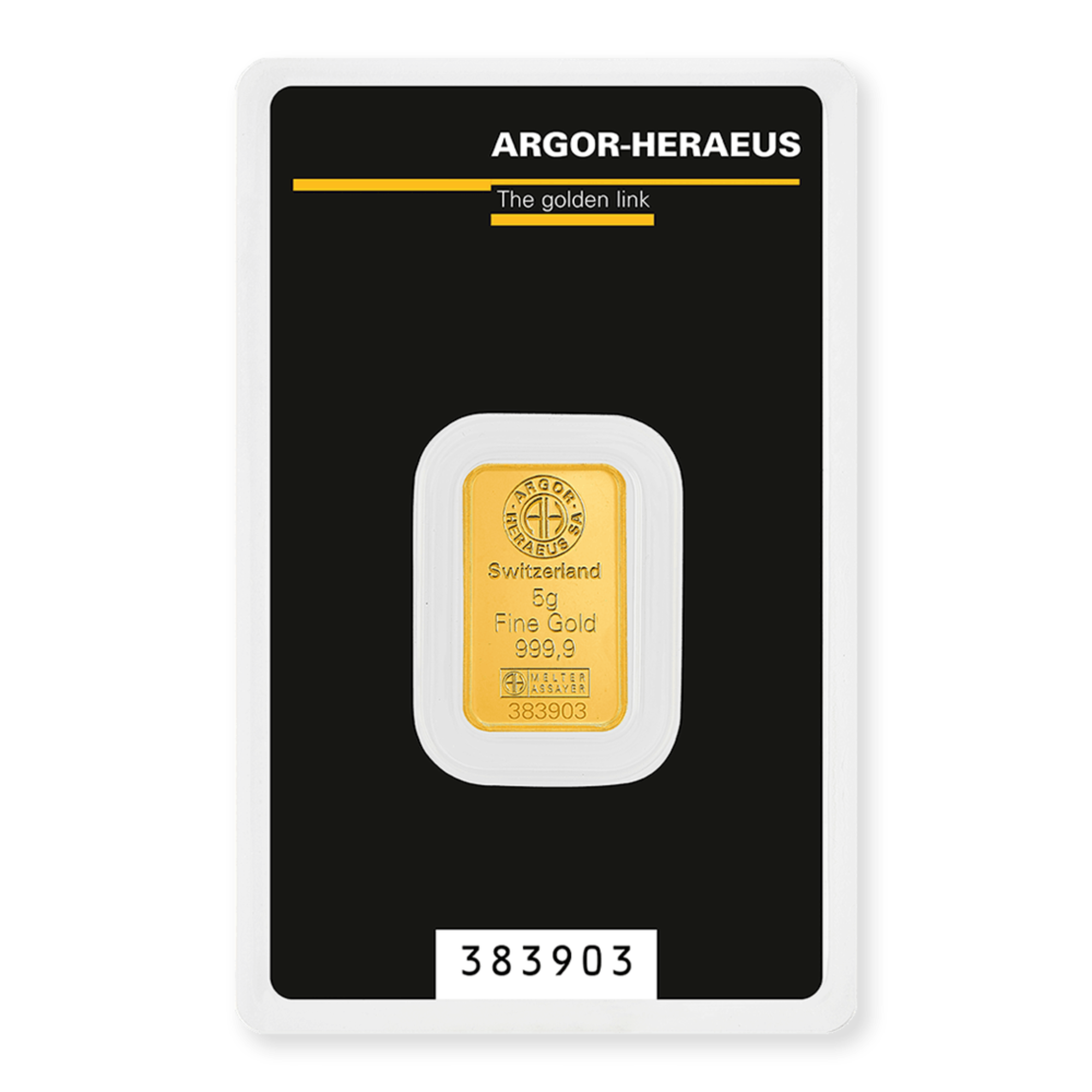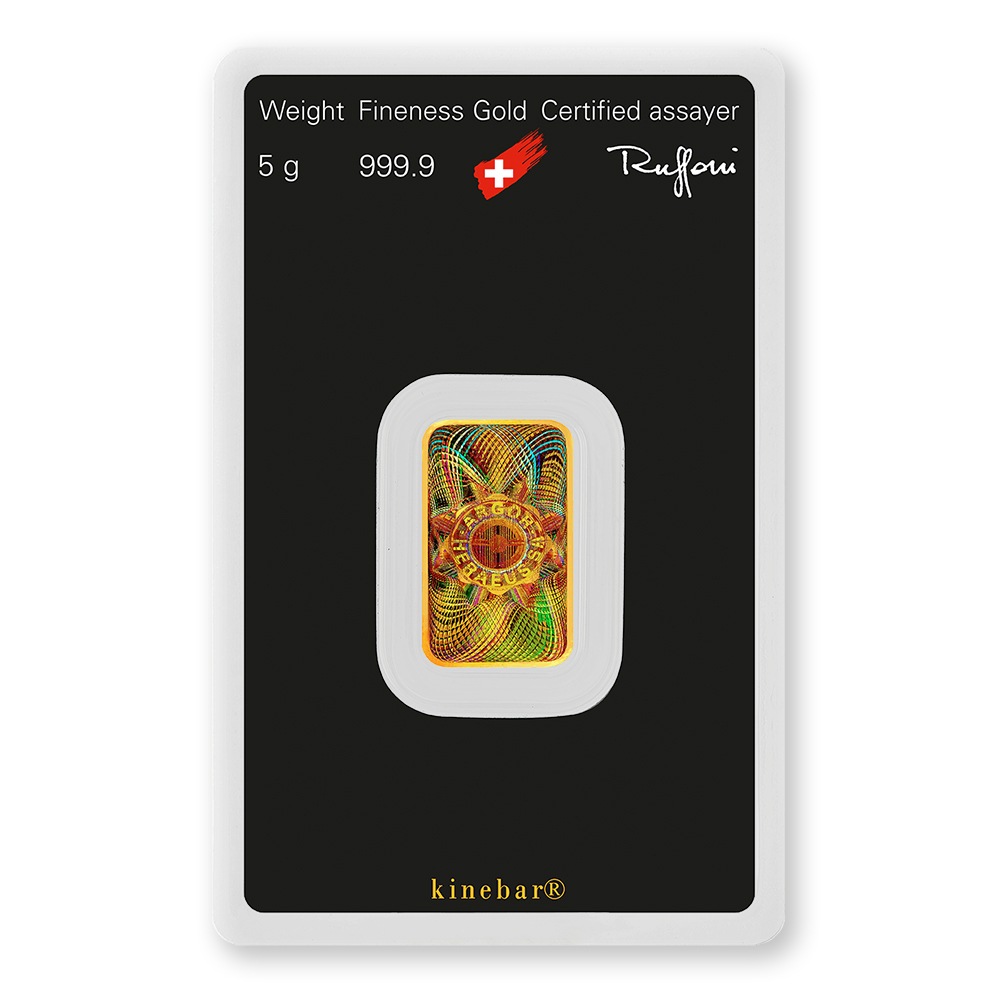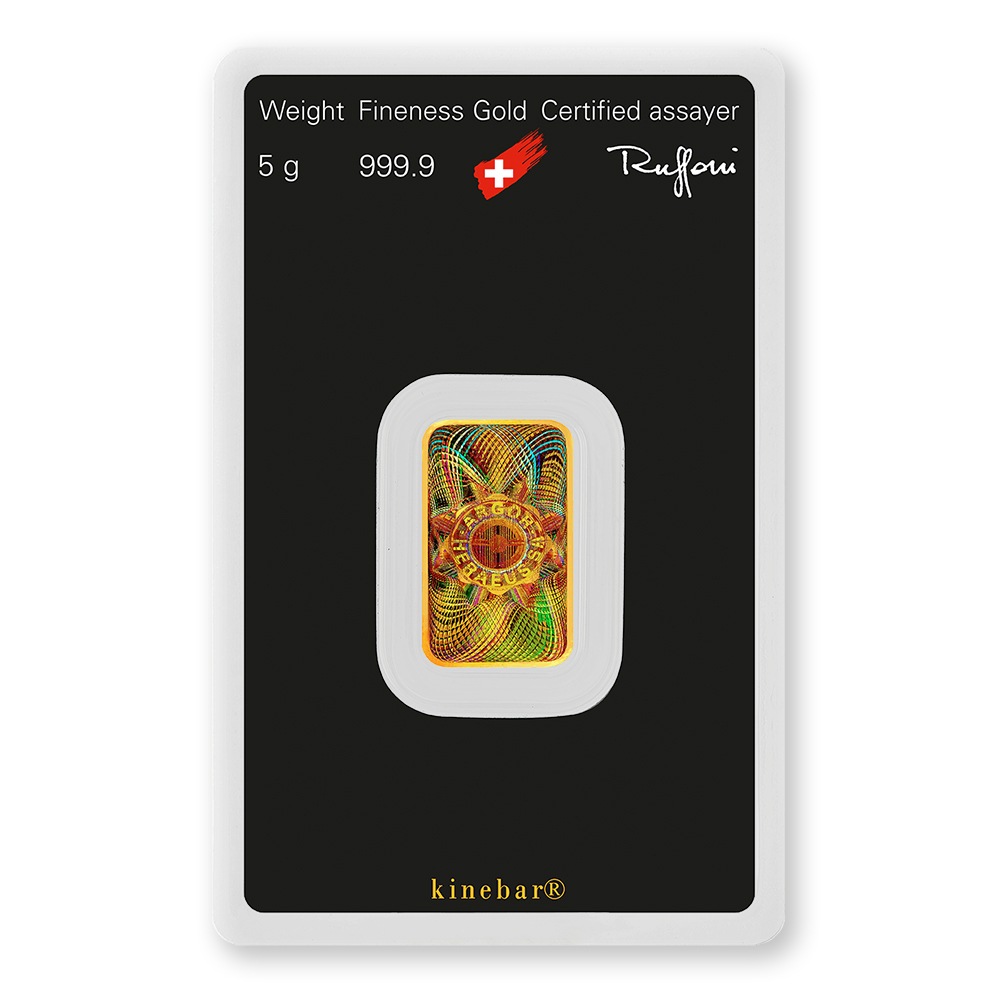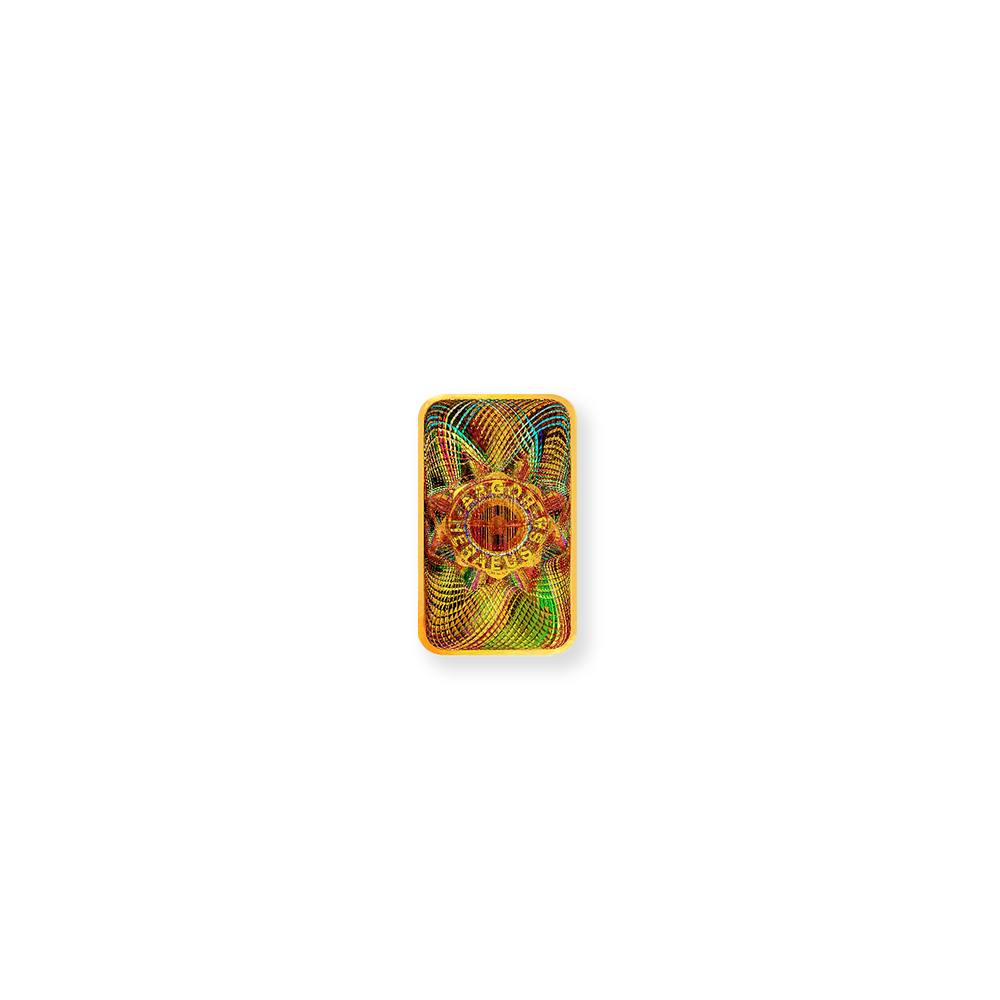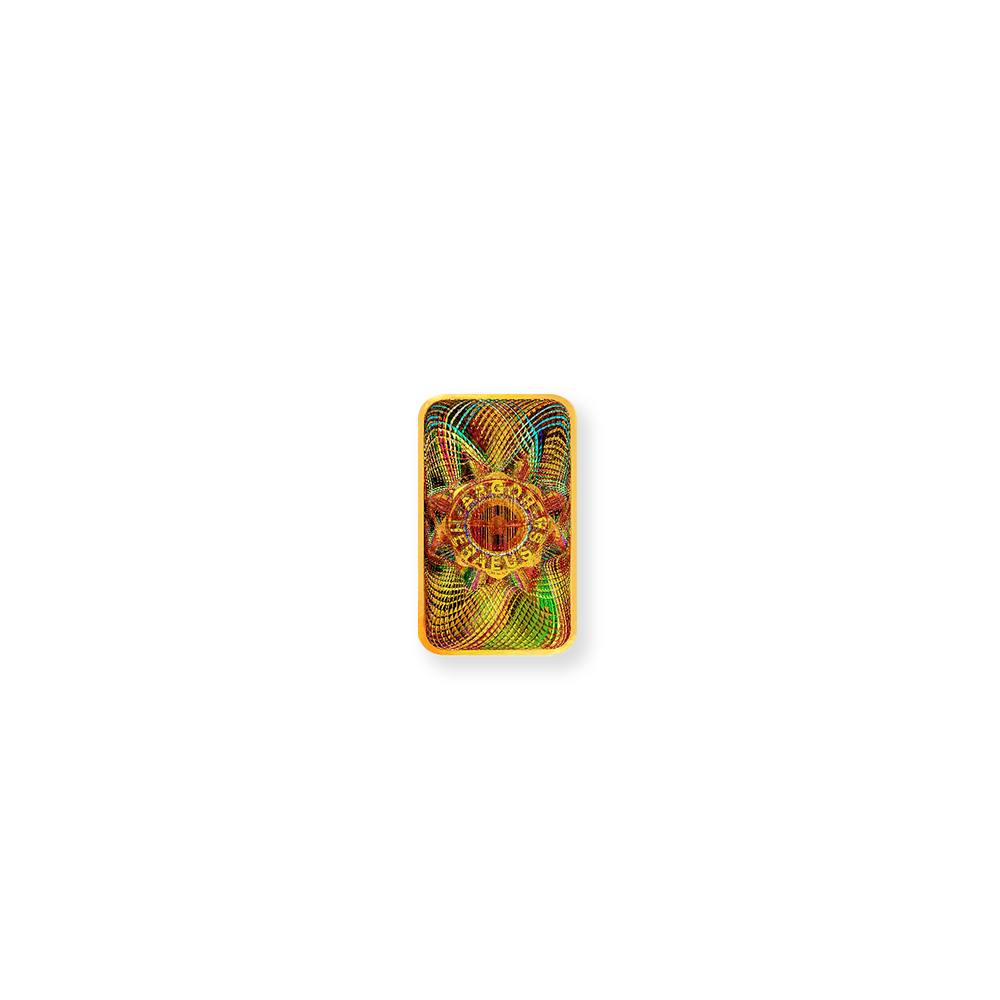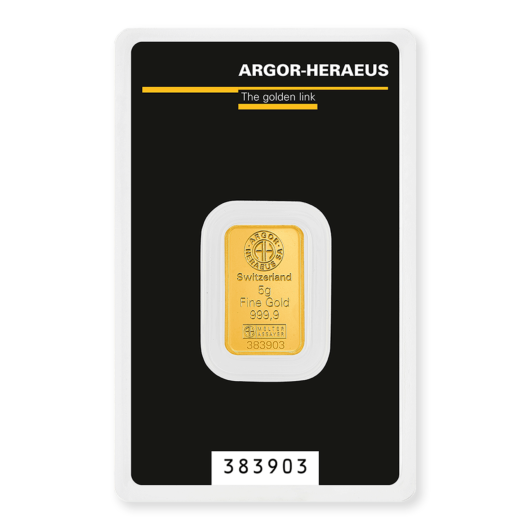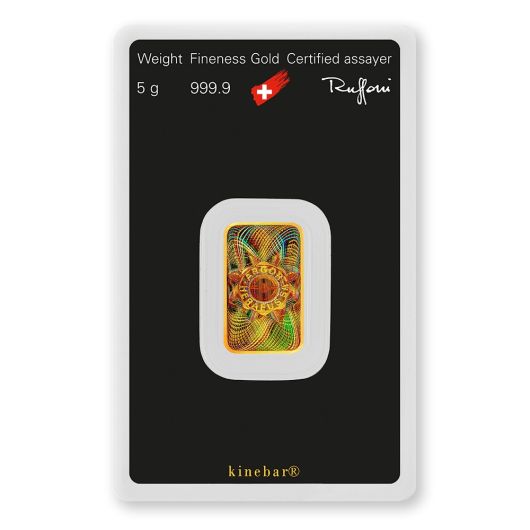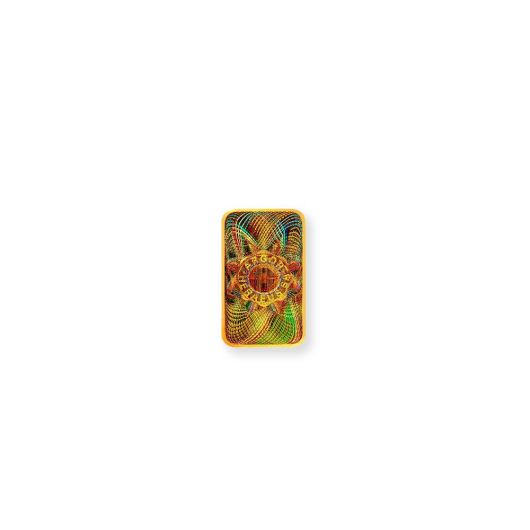 Bars
5g Argor-Heraeus Gold Minted KineBar
---
---
| QUANTITY | BANK TRANSFER | CREDIT CARD |
| --- | --- | --- |
539.3
This item does not attract GST
Buy back price:
The above prices may vary from our actual buyback prices due to our inventory position. All buybacks must be tested and authenticated in person before any quoted price is locked in and confirmed.
5 Gram Argor-Heraeus Gold Kinebar
Key Characteristics:
Premium Purity: Composed of 99.99% fine gold, this bar offers the utmost degree of refinement.
Eye-catching Design: The obverse displays the weight, fineness, and the emblematic Argor-Heraeus Kine emblem, while the reverse boasts a mesmerizing Kinegram optical security pattern.
Protective Packaging: Presented in a clear, tamper-evident casing that doubles as an assay certificate.
Unique Serial Number: Each bar is embellished with a one-of-a-kind serial number inscribed on the front, adding to its authenticity and value as a collectible.
Elevate your investment portfolio with the Kinebar series from Argor-Heraeus. Enjoy unparalleled quality craftsmanship at truly exceptional value.
Invest in the ultimate expression of quality and trust with the 5 gram Argor-Heraeus gold Kinebar. Expertly crafted from 99.99% pure gold, this bar embodies the everlasting value of precious metals. Its front showcases the weight, gold purity, and the esteemed Argor-Heraeus Kine emblem, embodying the trusted lineage of the world-famous Swiss gold refinery.
The back of the bar is adorned with a dazzling Kinegram security design, including the letters AH and the refinery name. A Kinegram is a light-diffracting optical security feature that not only confirms the bar's authenticity but also elevates its visual beauty. Each bar is presented in clear, tamper-evident packaging that also serves as an assay certificate, specifying the weight and verification of the bar by the assayer.
A unique serial number, inscribed on the front surface, adds to the bar's collectibility and authenticity. Rejoice in the peace of mind that comes with investing in a 5 gram Argor-Heraeus minted gold bar, now available in Australia through direct distribution at jaggards.com.au
| | |
| --- | --- |
| Purity: | 99.99% |
| Series: | Minted |
| Manufacturer: | Argor-Heraeus |
| Country: | Switzerland |
| Product Class: | Gold |