About PAMP Suisse
PAMP Suisse is a renowned precious metals refining and fabrication company, offering high-quality gold, silver, platinum, and palladium bullion products to customers around the world. With a strong heritage and reputation dating back to 1977, PAMP has a long history of innovation and excellence in the industry. The company has developed a strong brand identity that is recognized and trusted by customers worldwide, thanks in part to their focus on quality, purity, and sustainability.
PAMP's state-of-the-art refining facilities ensure that every product meets the highest standards of craftsmanship and purity, making them a trusted choice for investors and collectors. The company is also dedicated to sustainability and responsible sourcing, which further enhances their reputation as a reputable and trustworthy company.
PAMP Suisse Gold Bullion
One of the standout products in the PAMP Suisse range is the Lady Fortuna gold minted bar. This iconic design, featuring the Roman goddess of fortune, is a symbol of PAMP's commitment to excellence and is recognised and trusted as a sign of quality and purity. Each Lady Fortuna bar is struck with advanced minting technology, resulting in a beautiful and highly detailed finish. These bars are available in a range of sizes and purities, including .9999 fine gold, making them a top choice for both investors and collectors.
If you're looking to buy PAMP Suisse gold bars, there are several options available to you. You can visit a reputable precious metals dealer in person or buy PAMP Suisse gold bars online from a trusted retailer. When buying online, it's important to do your research and choose a reputable seller to ensure you're getting authentic, high-quality products.
At Jaggards, we are an authorised PAMP Suisse distributor in Australia, so you can be assured of the authenticity of any PAMP Suisse gold bars you purchase from us. We have a wide range of sizes, designs, and precious metal options to choose from, so there's something for every investor and collector.
Explore our range of PAMP Suisse gold bars today and add a touch of elegance to your portfolio.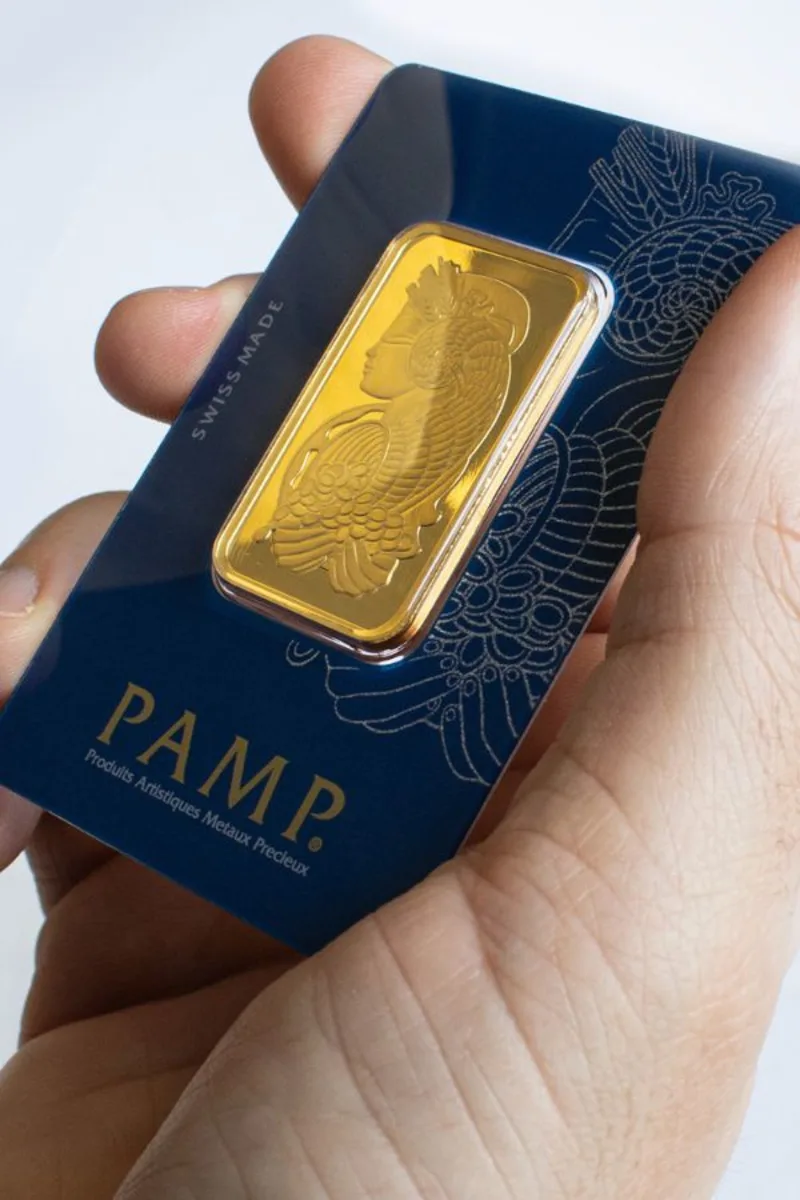 FAQs
Seasoned investors know that diversification is key to a successful investment portfolio. PAMP Suisse is a gold refiner that is renowned for its exceptional craftsmanship, purity, and advanced technology. The brand is a leader in the gold manufacturing industry and its products are in high demand. Investing in PAMP Suisse gold bars can provide you with peace of mind knowing that your investment is liquid and protected.
However, like any investment, the decision to invest in PAMP gold should be based on your financial goals, risk tolerance and market research.
PAMP gold enthusiasts can purchase gold cast bars and gold minted bars on the Jaggards website. These bullion gold products are available in weights ranging from 1 gram to 500 grams to ensure investors can access an option that best aligns with their investment goals.
PAMP Suisse gold products are renowned for their high purity. The standard purity for PAMP Suisse gold bars is 99.99%, often referred to as "four nines" purity. This means that the gold used in PAMP Suisse products comprises 99.99% pure gold with minimal impurities. This level of purity is considered one of the highest in the industry and is sought after by investors and collectors for its quality and value. PAMP's commitment to producing gold products of exceptional purity has contributed to its reputation as a trusted and respected name in the precious metals market.
Storing your PAMP Suisse gold products is crucial to ensure their safety and preserve their value. First off, ensure you select a secure and private location for storage. Consider a home safe, a safety deposit box at a bank or a reputable private vaulting service. Jaggards operate a secure vaulting facility for a nominal annual fee, speak to our friendly team to learn more about storing your PAMP Suisse gold with Jaggards.
This can also help keep your PAMP Suisse gold products away from direct sunlight, extreme temperatures and humidity. Exposure to these elements can affect the appearance of the gold over time.
To ensure you get the most out of your investment when you sell your PAMP Suisse bars, it is important to keep it in the same condition that you purchased it. This means that if you buy a PAMP Lady Fortuna Bar with packaging, you should keep it in its original packaging.
Tip: Use anti-tarnish strips or silica gel packets in the storage area to minimise the risk of tarnishing.
It is normal for gold products, especially cast bars, to change colour over time. This is because gold is a reactive metal and can react with oxygen to form a thin layer of oxidation on the surface. However, it does not affect the value of the gold, so there is no need to worry.
Yes, PAMP Suisse gold products are widely recognised and respected internationally. PAMP's gold bars are well-known among investors, collectors and dealers worldwide. Their products often feature intricate designs, unique serial numbers and the refinery's hallmark, adding to their authenticity and credibility.
PAMP Suisse gold products are highly liquid international given their strong brand and reputation for refining quality gold for oer 50 years.