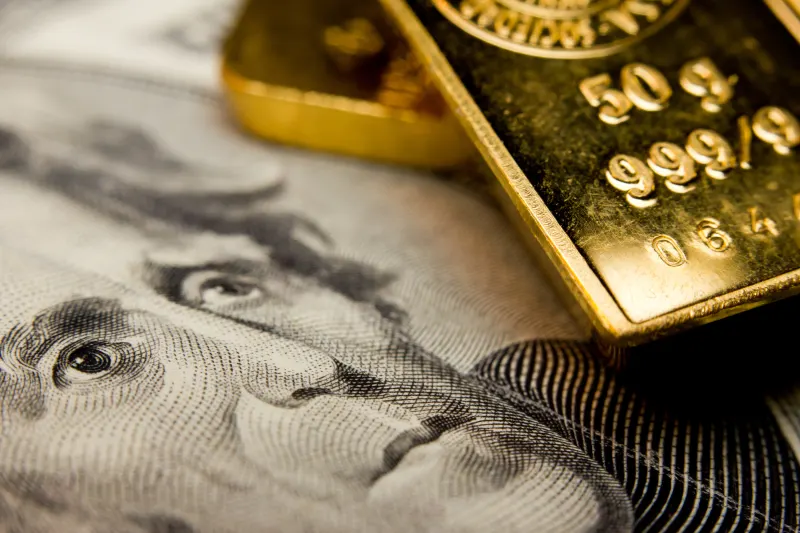 Sell Your Gold & Silver Bullion
Unlock the true value of your precious metals with Jaggards, Sydney's gold and silver authority. As the city's most sought-after gold and silver bullion buyers, we transform your investments into rewarding returns. Experience the pinnacle of trust and expertise with every transaction.
One of the qualities that sets us apart as a gold buyer is the convenience we bring to every customer. Selling your gold and silver bullion is a quick and easy process at Jaggards. You can bring your bullion over the counter at our Sydney showroom or send the metal to us via post.
As premier buyers of gold and silver bullion bars and coins, we offer market-leading rates. We boast the highest buyback prices from around 99% of the spot market value, assuming the bullion is in good condition.
Payment can be made by bank transfer or cash if you're selling in person. Please note, however, that we do not make cash payments for transactions over $5,000. For an added layer of security, we require only two forms of identification for all transactions — one photo ID (driver's licence or passport) and proof of address.
All buyback prices will be confirmed over the phone or counter and finalised once the gold or silver bullion has been received and tested. Precious metals presented for sale will be authenticated using proprietary, non-invasive assaying methods. Please note that any indicated prices are subject to change due to market fluctuations.
Take the next step with Jaggards. Trust us with your precious metals and see their true value unfold.

Transform Your Holdings with the Top Gold and Silver Buyer in Sydney
Dive into a selling experience like no other when you choose Jaggards. With market-leading rates, unmatched expertise and a legacy of trust, it's time to see your precious metals truly shine. For more details, contact us directly or browse our FAQ page for common queries. Sell with confidence today.
Buy Back Calculator
We are currently paying
(AUD)
Disclaimer: The above prices are for indicative purposes only which may not match our actual buyback prices due to the spot price delay. All buybacks must be tested and authenticated in person before any quoted price is locked in and confirmed.
Some common questions we get
Visit our Sydney showroom at Level 8, 74 Pitt Street with one photo ID (driver's license or passport) and one proof of address dated in the last three months (bank statement or utility bill)
Our team will test the bullion and confirm a buyback price based on the live market value
Payment will be made by bank transfer or cash (subject to availability and cash limits)
We recommend using an insured courier when posting your silver or gold bullion to us. Most of our clients tend to use registered mail or a courier service such as TNT or StarTrack, which is tracked and signed for.
Address it to: Jaggards, Po Box R345, Royal Exchange, NSW, 1245
Include a written note instructing us that you wish to sell the enclosed bullion, along with your name and contact number. Please also include a copy of one photo ID (driver's license or passport) and one proof of address dated in the last three months (bank statement or utility bill)
Once the team has authenticated the metal, we will call you to confirm the buyback price
Payment will be made by bank transfer the same day.
No, you do not need an appointment to sell your bullion back to us. Visit our showroom whenever is convenient for you during our business hours Monday to Friday 9:00am - 4:30pm.
We are a trusted buyer of various types of gold, silver, and platinum bullion. Our minimum purity standards are pure gold .9999, pure silver .999, and pure platinum .9995. We commonly purchase bullion from LBMA-registered brands like The Perth Mint, ABC Bullion, PAMP Suisse, Argor-Heraeus, Canadian Mint, Royal Mint, US Mint, Baird & Co, Austrian Mint, Rand Refinery, and Scottsdale. However, the condition of your bullion will determine its purchasing power and will be reviewed accordingly.
It's important to note that we do not buy back all bullion, and our dealers assess each bar individually to decide if it meets standards for resale.
If you have bullion items or collectibles that you'd like to sell, please get in touch with one of our experts today. We are always happy to help you get the most out of your investment.
Jaggards is proud to offer market-leading buyback rates for both gold and silver bullion. Our rates are consistently competitive, reflecting around 98% of the spot market value for gold bullion and 96% for silver bullion in good condition. This has cemented our reputation as a reliable silver and gold bullion buyer in the region. However, the exact rate will depend on the current market value, the type of bullion and its condition. For the most accurate and up-to-date rates, we recommend reaching out to our team directly.
To achieve the quoted buyback rates, your bullion should be in good, sellable condition without significant damage or wear. While minor scratches or blemishes might be acceptable, any severe damage, alterations or signs of tampering could affect the final rate. It's always best to keep your bullion in protective casings or sleeves to maintain its condition. To get an accurate assessment of your bullion, give us a call or pay us a visit.
For all transactions at Jaggards, we require one form of identification (in presence) to ensure the security and integrity of the process. The first should be a photo ID, such as a driver's licence or passport. This is a standard procedure to protect both the seller and Jaggards from potential fraud.
Transparency and trust are at the core of Jaggards' operations. Our buyback prices are derived from real-time market data, ensuring they reflect the current spot market value. Our proprietary, non-invasive assessment techniques are employed to ascertain the metal's genuineness and quality. Additionally, we always communicate any potential price changes due to market fluctuations to our sellers, ensuring there are no surprises.
Jaggards stands out primarily due to its unwavering commitment to transparency and consistently competitive buyback rates. With a rich legacy of trust and expertise, we've cultivated a reputation as a top-tier gold and silver bullion buyer in Sydney. Furthermore, our streamlined buying process guarantees that sellers not only obtain the full value of their precious metals but also experience a swift and hassle-free transaction.
While selling gold and silver can be profitable, it's crucial to consider the factors below and perhaps consult with financial or precious metal experts before making a decision.
Purchase price — If you bought gold or silver at a price lower than the current market rate, selling it now would yield a profit.

Market fluctuations — The prices of gold and silver are influenced by global economic conditions, geopolitical events, interest rates and inflation, among other factors. Timing your sale when prices are high can result in better profits.

Physical condition — Bullion or coins in excellent condition might fetch higher prices compared to items that are tarnished or damaged.

Purity and authentication — Pure gold or silver (e.g., 24k gold) will be worth more than items with lower purity levels. Having certificates of authenticity or getting your items appraised can also help you get a better price.

Supply and demand — If there's a high demand for gold or silver in the market, it can drive up prices, making it a more profitable time to sell.
If you want excellent rates and a quick selling process for your bullion, contact Jaggards today. We are among the most trusted silver and gold bullion buyers in Sydney.