The Beginner's Investing Guide: Part 4 - Choosing the right investment option
This year we are answering some of our client's biggest questions about buying gold and other precious metals.

Our previous articles can be found below:

Part One: Why invest in precious metals?
Part Two: How much precious metal should you buy?
Part Three: When to buy gold

This installment explains the different ways you can purchase and invest in gold, the pros and cons of physical metals as an investment strategy and how to purchase gold bullion and coins online.

Gold investing options

Once you have an understanding of the reasons to invest in precious metals, the portion of your portfolio gold and other metals should make up, the holding costs and the best time to buy, you'll need to think about the form you will buy gold or other metals in. This article mainly focuses on gold.

Bullion and coins

Gold is valued in accordance with its purity/carats and weight as well as the market price per ounce. You can purchase it in larger bullion/bars or smaller coins.

Benefits of buying gold coins

Because gold coins are smaller than gold bars, if you need to sell a portion of your collection in the future, it will be easier to divide it up. What's more, because they are available at fractional sizes (starting at 1/10 oz), purchasing gold coins can be an affordable entry point for precious metal investors.

Gold coins are legal tender currency and are approved under the national currency act. When you buy (London Bullion Market Association) LBMA-approved minted coins, you will have assurance of weight and purity.

Many collectors and investors choose limited mintage productions (an example is the Perth Mint's 2023 Year of the Rabbit series, which is presented on 99.99% silver and platinum as well as gold). Special release coins have high collector's appeal, which can result in rapid jump in value.

The final benefit of gold coins is that they are easy to store.

Benefits of buying gold bars/bullion

One of the main advantages of owning gold bars is the lower premium. This means that the gold you purchase is as close to the gold spot price as it can be, giving you a better value for your investment. Additionally, the cost of manufacturing is lower for gold bars, as there are fewer costs associated with design, production, packaging, and minting.

The high purity standards of gold bars, ranging from 99.95% to 99.99% gold, make them a top-tier investment choice. With sizes ranging from 1/2 oz to 400 oz, there's a perfect option for any investment size.

For those looking to buy in large volumes, gold bars offer the best value. The larger the size of the bar, the greater the cost savings in terms of premium. This makes gold bars a great option for individuals looking to make a significant investment in precious metals.

Gold bars offer the best value dollar for dollar compared to coins. For those looking to maximise their investment, gold bars are a great choice.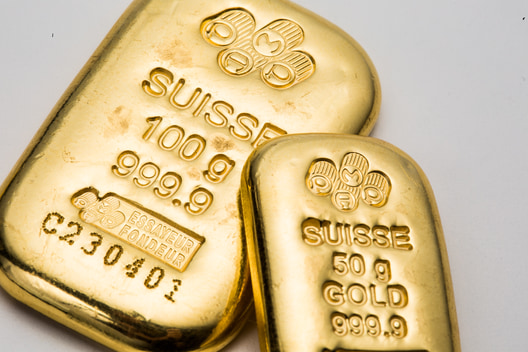 ETFs and funds

Outside of gold bars and coins, your other option is gold ETFs. This is not a bad choice for people who have limited funds or wish to diversify their portfolio.

ETF stands for exchange-traded funds. This gives you a low-cost, diversified strategy that invests in gold-backed assets rather than in gold itself. You can buy gold ETFs through a brokerage firm or fund manager and they are similar to the funds that are traded on the stock exchange.

When you purchase gold and other precious metals this way, you never actually own the asset, rather the paper holdings to it and you expose yourself to risk because the fund has the potential to liquidate. The potential for yield is generally less than purchasing physical gold. To add to this, while you don't have to pay for insurance or physical holding costs, you will have to pay fees, so it's worth doing some forecasting and analysis to figure out whether you will get the returns you want.

Buying gold ETFs can be a strategy but it is difficult to know how to get started and how to understand changes in the market. People who have specialised knowledge generally handle these types of transactions on behalf of investors because of the complexities involved.

Digital Bullion

Buying digital bullion allows for 'fractional ownership' and is the "digital representation of physical gold ownership." As explained by Business Standard, digital gold is bought online and it is stored in insured vaults by the seller on behalf of the buyer. With this option, you can invest smaller amounts without having to worry about paying to store and protect it.

Digital bullion is relatively simple to buy or sell and can be traded 24/7. However, if you invest this way you never own anything tangible and there is counterparty risk involved.

Gold Stocks

The other strategy for gold as an investment is the purchase of mining or gold-related stocks. This will give your portfolio exposure to the gold market and has the potential for high returns. Having part of your focus around gold is a good way to diversify your stock portfolio as it is an asset that doesn't always fluctuate with the rest of the market.

As with any stock purchase, there is the risk caused by poor company performance and the need to rely on the actions of others.

The advantages of owning gold and other precious metals

Every type of investment comes with benefits but gold has long been seen as a 'safe haven' which is not affected by stock market plunges and economic uncertainty.

So many factors can influence share prices and currency values and they often plummet because someone in a leadership role has made a bad decision. Gold remains immune to counterparty risk because no individuals officially control its performance.

When compared to property, precious metals can be seen as a better investment because they have lower holding costs. You will pay for storage and insurance but not maintenance or things like council rates, all of which chew into profits that come from investing in a home or office. While it's not cash or shares, gold also has the advantage over property as an investment because it is relatively easy to sell. There are gold dealers all over the world who are purchase-ready and you won't need the stress of repairs and lengthy marketing campaigns.

Finally, gold tends to avoid the 'rollercoaster' of other investments. Consider the rise and fall of crypto currencies and bitcoin. There will always be assets that perform this way and while you can allocate some of your portfolio to riskier investments, gold tends to rise more steadily.




Source: Trading View

Drawbacks of owning gold and other metals

If there is a drawback to owning precious metals, it is security and holding costs. However, when you consider that every investment is a risk and comes with expenses, the fact that storage and insurance are part of the cost should not rule out this type of investment as an option. What's more, it is easy to find low-cost storage and insurance if you work with a reputable dealer. At Jaggards, for example, we offer secure storage at 0.5% for gold and 1% for silver.

See more: Secure precious metal storage

A badly timed purchase can be another risk. When you create your investment strategy, you will need to look at how gold is performing and how market conditions may influence its value in the near future.

Our recent article on When to buy gold will help you understand how economic cycles and other factors influence the value of this investment.

How to buy gold bullion

The best way to buy gold bullion is through a licensed and reputable retailer. This will give you more confidence in the validity of your purchase, and your precious metals will be carefully packaged and insured to mitigate the risk of damage or loss in transit.

These days, it's easy and safe to buy gold online. When you do so, you can shop 24/7 and save time. Make sure to compare prices across a few vendors and consider things like insurance, credit card surcharges and shipping costs before you submit your order.

Steps to buy gold online


Visit

www.jaggards.com.au

(we have been selling gold and other precious metals in Australia since 1963)

Browse gold, silver, platinum and rare coins, and choose your:

Price range

Purity

Weight
Year of production

Manufacturer (e.g. Perth Mint, Royal Mint, China Mint)
Select your items and complete your purchase (

user verification

will be required for purchases above $5,000AUD)

Select your preferred order logistics: Insured Parcel Delivery, In-store Collection or Secure Storage.

Make payment -

Pay by direct bank transfer

to avoid credit fees

You're all set! You'll receive your order confirmation in just a few minutes, followed by updates as your order is fulfilled.

To buy gold in person, visit our retail store, which is located on Level 8, 74 Pitt Street, Sydney NSW 2000.


Looking to purchase precious metals? Connect with us now
Rest assured that you are in good hands. The Jaggards team has been assisting clients in safeguarding their wealth and retirement portfolios through precious metals for over 60 years. Take the first step towards securing your financial future by contacting us today. Speak with our knowledgeable professionals via phone - 02 9230 0886 or email us at info@jaggards.com.au

DISCLAIMER
Please note that past performance does not guarantee future results. This article and the links provided are for general information only and should not be taken as constituting professional advice from Jaggards.
Jaggards is not a financial adviser. We recommend you seek independent financial advice before making any financial decisions based on the information contained in this article.
---